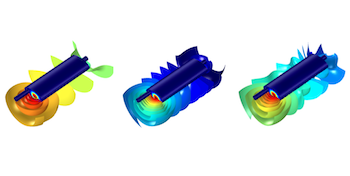 Guest blogger Linus Fagerberg from Lightness by Design picks up where he left off in his previous blog post to discuss how radiated sound depends on the shell thickness of a muffler. Here, we discuss different entities for gauging the performance of mufflers. One important parameter is the thickness of the muffler's casing and how this affects its performance. By performing acoustic-structure interaction simulations, we can see how shell thickness affects muffler performance.
Read More
---
Guest blogger Linus Fagerberg from Lightness by Design returns to share a novel approach for predicting external noise generation in muffler designs. In recent years, the European Union has introduced stricter noise emission limits for road vehicles. For those designing mufflers, these limits make it important to create more efficient ways of developing and assessing the performance of their designs. At Lightness by Design, we've developed a novel approach that accomplishes this goal.
Read More
---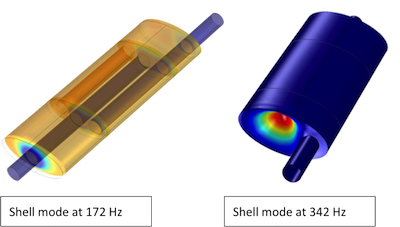 Today, guest blogger Linus Fagerberg of Lightness by Design, a COMSOL Certified Consultant, shares how multiphysics simulation provides accuracy in automotive muffler design. The acoustic design of mufflers in the automotive industry has traditionally been performed by an iterative process where different alternatives are compared by experimental methods until a satisfactory design is found. Numerical simulation can drastically reduce a project's time and expenses, while simultaneously increasing the performance of the muffler.
Read More
---