COMSOL Certifies a New Entry AMD FirePro Graphics Card
We at COMSOL are diligent with testing all parts of the modeling and simulation experience. Our partners, AMD, are helpful in this procedure by providing their latest graphics technology for us to certify. This latest addition has been the AMD FirePro™ V3900 graphics card, a powerful entry-level accelerator card for projects ranging from low to moderate complexity. Its great feature is that it can support up to five display devices.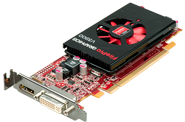 Supporting the latest GPU acceleration technology such as that provided by AMD FirePro GPUs is important to COMSOL as multi-disciplinary workflows in design-engineering become more common. It's essential that our users can quickly capture and analyze the range of results and data in a simulation, as well as gain a deeper understanding of the models and underlying physics that are being simulated. Often, combinations of COMSOL's postprocessing tools are required to adequately present all the relevant results from a multiphysics simulation, requiring different levels of GPU acceleration in order to maximize productivity and efficiency in the process.
To this end, ensuring positive user experiences is very important to us, and COMSOL regularly tests and recommends the latest generation of AMD FirePro™ GPUs including the FirePro V4900, V5900, and V7900 cards for all COMSOL multiphysics toolsets. Here is a list of certified cards and system requirements.
---
---
|
© 2017 by COMSOL Inc. All rights reserved