Impressions from the European COMSOL Conference

Guest

Lars Fromme October 19, 2012
As you probably know by now, the European COMSOL Conference took place in Milan, Italy on October 10-12. As Phil has already mentioned in his blog posts, it was truly a remarkable event and I would like to share some of my impressions with you as well. This year's program was packed with a wealth of very exciting presentations, training opportunities, and networking events.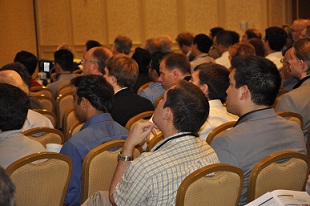 COMSOL 4.3a and Beyond
On opening day, Svante Littmarck, President and CEO of COMSOL, Ed Fontes, CTO, and Bjorn Sjodin, VP of Product Management, introduced Version 4.3a. The three of them talked about the important news associated with the release, including the four new products and array of neat features. They also gave the audience an overview of COMSOL's development plans for the next year.
Guest Keynote Speakers
During the keynote sessions, simulation experts from different companies shared their experience about multiphysics modeling with an audience of over 400 engineers and scientists. Marco Cati from the Research & Development Department of Esaote talked about piezoelectric transducers and ultrasound imaging. He pointed out that probe design is undergoing new advances. This is largely thanks to a multiphysics simulation approach, enabling both optimization and understanding of the interaction between material properties and probe geometry.
Matthias Richwin from KOSTAL, a worldwide automotive first-tier supplier, also spoke at the conference. He gave an overview about the role of multiphysics simulations in the automotive product development. In particular, he showed examples of using COMSOL in power electronics design, thermal analysis, and capacitive sensors.
Tim Poole from JDR Cable Systems presented a project he did together with the COMSOL certified consultant Continuum Blue. Their project consisted of testing and analyzing the complex loading conditions and designs to improve subsea cable life. By performing a numerical analysis, the best candidate design can be found in about a quarter of the time and for about half of the cost compared to practical testing. Impressive!
European COMSOL Conference Featured 100+ User Presentations
During the course of the conference, over 100 user presentations were delivered. I would really like to emphasize that I am ever and anon fascinated by the quality of the work and the accuracy of the simulations presented by users of COMSOL. During the coffee breaks, poster session, cocktail reception, and awards dinner I had the opportunity to talk to many attendees. They confirmed that the specialized minicourses and tutorials were very popular. These are an unmatched opportunity to learn directly from our developers and an excellent opportunity for COMSOL to get feedback from our customers about our products.
Judging by the feedback I received from everyone who attended the conference, and my own impressions, all-in-all it was a huge success. It is a great opportunity to meet designers, engineers, and researchers and stay up-to-date on the latest trends in multiphysics simulation. I hope to see you all again next year in Rotterdam!
---
---
|
© 2017 by COMSOL Inc. All rights reserved