Multiphysics Simulation: An IEEE Spectrum® Insert Now Available
Each year, electrical and electronic engineers and designers share their groundbreaking work in the IEEE Spectrum® insert, Multiphysics Simulation. In this 2014 edition, top tech companies and research institutions, from around the globe, share their simulation stories. We are excited to announce that you can now read and download the magazine on our website!
Highlights from the 2014 Edition of Multiphysics Simulation
This year's Multiphysics Simulation insert features simulation case studies that span a wide range of topics, including the upgrade of the Booster synchrotron at Fermi National Accelerator Laboratory (Fermilab), designing transformers and nanoantennas, modeling smart materials, and semiconductor manufacturing, to name a few.
You can check out the Multiphysics Simulation insert on our website to learn more about the modeling and simulation techniques that engineers from around the world have employed in their diverse projects.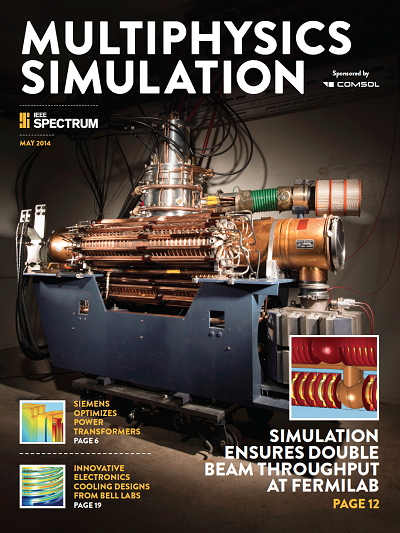 The cover of the Multiphysics Simulation insert showing an RF cavity with ferrite tuners from the Booster synchrotron. Cover image and simulation courtesy of Fermilab.
Energy Efficiency Features Prominently
When flipping through the magazine, you'll notice that a common theme runs through many of the stories: flexible and powerful thermal management is needed in order to achieve optimal energy efficiency.
Thermal management is important in all application areas, but it is especially significant in electrical and electronic product design. For example, engineers at Arkansas Power Electronics International (APEI) are modeling the thermal, mechanical, and electrical components of packaging systems and power modules to prevent device failure due to temperature increases. Moreover, engineers working on a joint project between Whirlpool and GREENKITCHEN project, a European initiative supporting the development of energy-efficient home appliances, are using simulation to predict and improve the thermal efficiency of heat transfer in household ovens. Furthermore, at Bell Labs, researchers are designing new microthermoelectric coolers to precisely control laser wavelength in high-speed optical communication systems.
All applications where thermal management is mission critical, multiphysics simulation provides the right tools to achieve innovative, accurate, and reliable design solutions.
You can read these and other stories in this year's Multiphysics Simulation insert. Check back here over the coming months as we continue to share information and resources about the researchers featured in the magazine.
IEEE Spectrum and the IEEE logo are registered trademarks of Institute of Electrical and Electronics Engineers, Inc.