Preview: Virtual Conference Guide for Smartphones and other Web-enabled Devices
The COMSOL Conference is about to get kick-started with its first stop in Boston next week, and Milan to follow soon thereafter. Now we're excited to announce a new feature for this year's conference attendees: a virtual conference guide for smartphones and other web-enabled devices. The full version is yet to be released, but I was able to test-drive the app and will share it with you here on the blog.
The entire conference, in the palm of your hand
As paper continues to get swapped out in favor of virtual applications, we at COMSOL follow suit. Each year we print a great deal of material for our annual conference, and sometimes it can become cumbersome to handle. Programs get tucked inside backpacks, sheets of paper disappear. This is why we are providing Boston and Milan conference attendees with the option to download our virtual conference guide via the Guidebook app.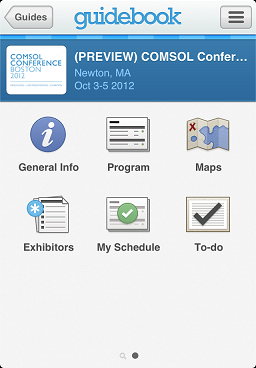 Preview of COMSOL Conference Boston 2012
Virtual Guide
Upon installing the app and retrieving the conference guide, you can begin exploring everything from general information to exhibitors, and everything in between. Under the "General Info" section you can read about the conference and get instructions for how to Tweet questions to us during the event. The "Program" displays all sessions in list format, which you can then explore further by clicking on each session. You have the option to add any session to your schedule straight from the program. You will never miss a minicourse, keynote talk, lunch, or coffee break! And if you really want to stay organized you can create your own personal to-do list.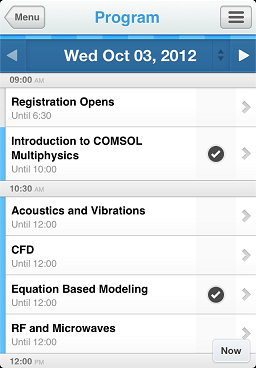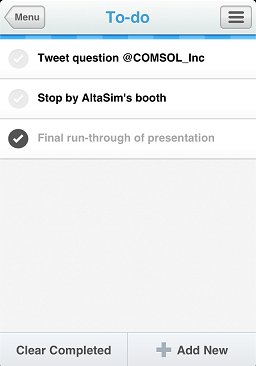 A check-mark appears next to a session that has been added to "My Schedule".
Similarly, items can be checked off on your "To-do" list.
Using the "My Schedule" feature allows you to keep track of the aspects of the program that matter most to you. You will always know where to go and when, and if you don't remember where a particular event room is, simply find it on the venue floor plan under "Maps".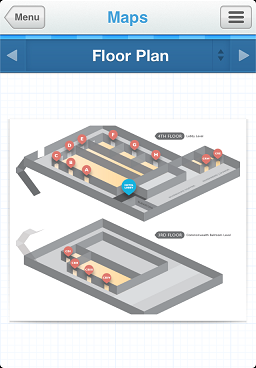 The floor plan under "Maps" helps you find your way around the venue
If you're interested in finding out more about our exhibitors before you stop by their booths, just click on the "Exhibitors" badge. Here we list each exhibitor by company name, including their sponsor level. If the provided blurb is not sufficient, we link directly to each sponsor's website as well.
Devices that Support the Guidebook Application:
iPhone
Android
Windows Phone
BlackBerry
Other web-enabled devices, including iPads and computers
The conference guide will be made available to registered attendees and presenters only, via a redeem code we will provide you with.
Many of you engaged in a guessing game on our Facebook page where we gave out a trail of clues. We received many good guesses, and some of you came pretty close to figuring out the answer. Were you one of them?