Save the Date: Join Us for the COMSOL Conference 2016
Ready, set, simulate! If you are looking to improve your multiphysics simulation skills, are new to COMSOL Multiphysics and want to advance fast, or want to get inspired by other innovators, then this all-encompassing event is for you. Join us and thousands of other engineers and scientists for the COMSOL Conference 2016 and bring your modeling and product development knowledge to the next level. Read on for more details.
Introducing the COMSOL Conference 2016
This year, we're hosting the COMSOL Conference in seven different locations with the same exciting learning opportunities at each event. The COMSOL Conference will kick off its fall tour in Boston, MA, U.S. on October 5th through 7th, followed by stops in Munich, Germany; Bangalore, India; Shanghai, China; Taipei, Taiwan; Seoul, Korea; and Tokyo, Japan.
Opportunities to Connect, Learn, and Innovate
Among the many offerings at this year's COMSOL Conference, you'll be able to roll up your sleeves and try COMSOL Multiphysics during the event. We will have COMSOL experts, both developers and application engineers, on hand to give you one-on-one modeling assistance at our demo stations. How often do you get the chance to meet with the COMSOL technical staff and pick their brains? Take this opportunity to learn tips and tricks within the COMSOL Multiphysics® software and view the new functionality of the latest version.
In-depth training sessions, another feature of the COMSOL Conference, are an event favorite. Expand your knowledge and discover new technology through lectures and hands-on minicourses. With over 30 different breakout sessions featuring core fundamentals and advanced topics, there is sure to be something of interest to you. Flexible scheduling lets you plan a track of courses that correlates to your work, whether you are interested in mechanical, electrical, chemical, or fluid analysis applications.
If you have heard the buzz around the Application Builder and COMSOL Server™, you'll also want to attend our dedicated app-building session. Get the inside scoop on this revolutionary concept and start innovating, customizing, and deploying your own simulation apps.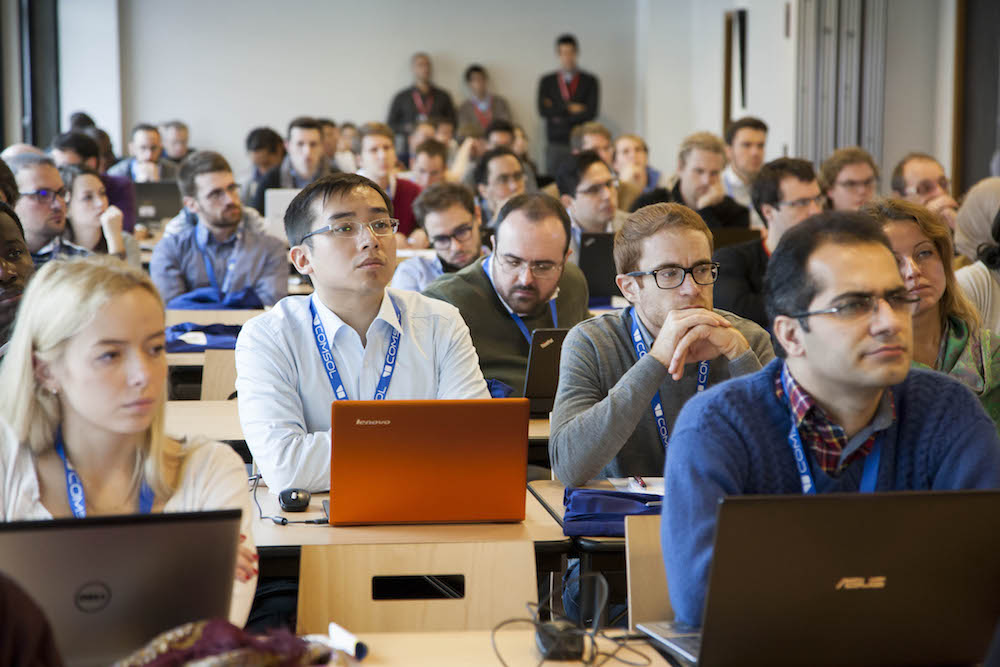 A hands-on minicourse during a previous COMSOL Conference.
At all of the COMSOL Conference events, you will have the opportunity to discover how the application of simulation-driven design can spark innovation in your own industry. Connect with other multiphysics simulation users from around the world during many networking opportunities. Also, learn from leading researchers and engineers as they share how they are using COMSOL Multiphysics during keynote presentations.
Get Involved: Early Bird Abstract Submission Deadlines
If you use COMSOL Multiphysics to model different types of physical phenomena, we encourage you to participate in either the oral or poster presentation sessions. This is the perfect opportunity to gain feedback, network with other engineers in the same field, and highlight your own work. Submit a short abstract by the early bird abstract submission deadline and you'll receive a reduced registration rate. The early bird abstract submission deadlines are as follows:
Boston: Friday, May 20th
Munich: Friday, May 20th
Bangalore: Friday, June 3rd
Shanghai: Friday, September 9th
Register Today and Stay Connected
I encourage you to register for the COMSOL Conference early, as early registrants get deeper discounts. Find a COMSOL Conference location near you and register today.
Stay up-to-date with information about the COMSOL Conference 2016:
We hope to see you this fall!
Editor's note: This blog post was updated on 5/31/16 to reflect a change in the lineup of the COMSOL Conference 2016. The Curitiba stop in Brazil will now be a COMSOL Day event.
---