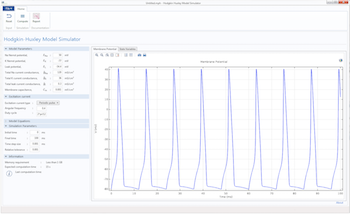 In a previous blog post, we discussed the physiological basis of generating action potential in the excitable cells of living organisms. We spoke about the simple Fitzhugh-Nagumo model, which emulates the process of depolarization and repolarization in a cell's membrane potential. Today, we analyze a more advanced model for simulating action potential, the Hodgkin-Huxley model. We also go over how to use a computational app to streamline this type of analysis.
Read More
---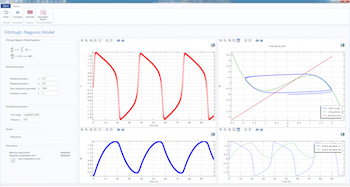 In 1961, R. Fitzhugh (Ref. 1) and J. Nagumo proposed a model for emulating the current signal observed in a living organism's excitable cells. This became known as the FitzHugh-Nagumo (FN) model of mathematical neuroscience and is a simpler version of the Hodgkin-Huxley (HH) model (Ref. 2), which demonstrates the spiking currents in neurons. In today's blog post, we'll examine the dynamics of the FN model by building an interactive app in the COMSOL Multiphysics® software.
Read More
---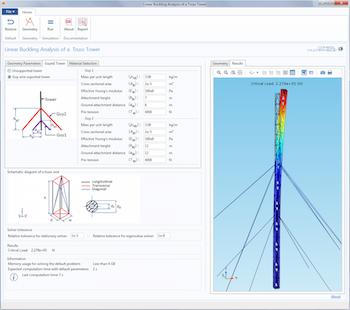 Simulation apps, as we've highlighted on the blog, are a powerful tool for hiding complex physics behind an easy-to-use, intuitive interface. While the app can be used by those with little simulation expertise, understanding the layers beneath its interface — the embedded model and underlying theory — does require a good understanding of COMSOL Multiphysics and the physics at hand. Let's explore the connection between theory, model, and app using the example of analyzing buckling in a truss tower design.
Read More
---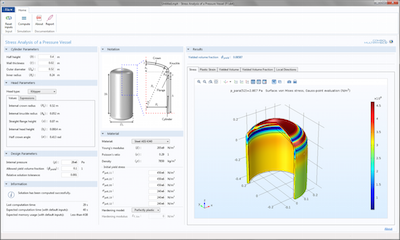 Pressure vessels are designed to confine liquids or gases. These containers are used in nuclear plants, the chemical and petroleum industries, and even as water heaters in homes. In principle, the vessels' internal pressure is much higher (or sometimes lower) than the ambient pressure, so the vessels must be carefully designed, as failure can result in severe damage. Today, we'll explain how to use the Application Builder in the COMSOL Multiphysics® software to create an efficient and accurate design workflow.
Read More
---