Enhance Your Simulation Skills at COMSOL Days 2016
If you are looking for an interactive training event where you can learn the basics of COMSOL Multiphysics and the Application Builder in just one day, and at no cost — keep reading. COMSOL Days are training events held around the U.S. and globally. These events include minicourses and networking opportunities that will leave you ready to start using simulation and building apps with confidence.
Hands-On Simulation for New and Experienced Users
As COMSOL's first sales representative, I have met many COMSOL Multiphysics users over the years and I noticed that they all share some similar characteristics. They love to learn new things, they are eager to ask questions, and they enjoy sharing experiences with their colleagues. Our users are also passionate about our software, positive, curious, ambitious, driven, energetic, and strong advocates for COMSOL within their organizations.
Since 2009, we have offered government workshops for federal employees and contractors in the Washington, DC area, packed with hands-on training, user presentations, and social events. Last year, we opened up these events to more people and were able to spend more face-to-face time with users to see what they needed to learn.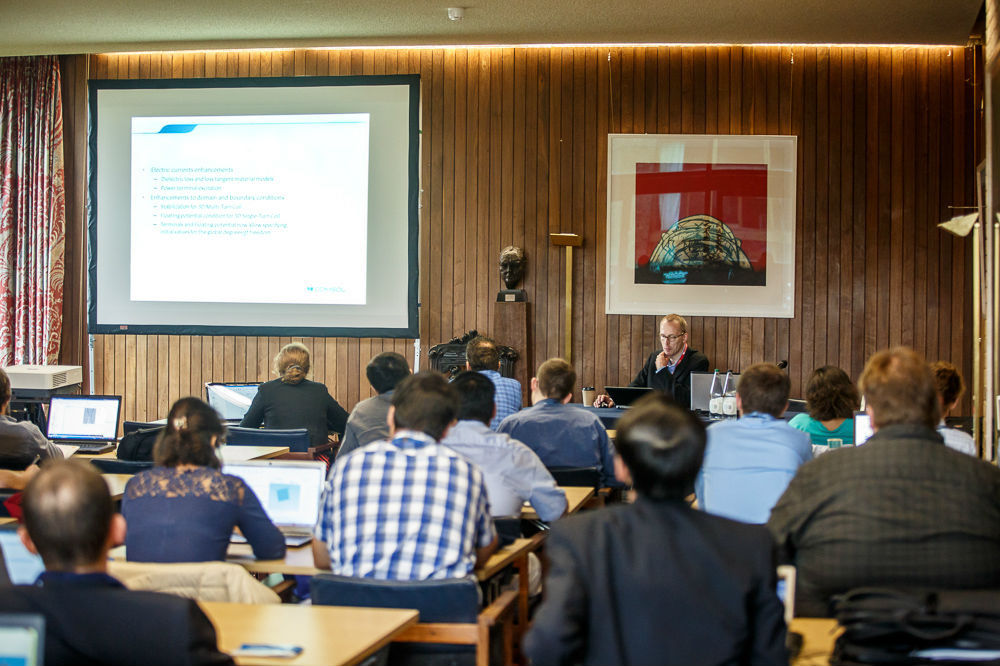 Attendees follow along during a hands-on training session.
This year, we decided to expand on these events and call them COMSOL Days — and we may be holding an event near you. In 2016, we're visiting some larger cities around the U.S. and the world, including Bethesda, MD; Montreal, QC; Detroit, MI; Columbus, OH; and Grenoble and Paris, France.
Each event will feature expert COMSOL Multiphysics engineers, ready to meet you and help you become a skilled software user. COMSOL Days will also offer hands-on training, demonstrations, user presentations, Q&A sessions, and interesting discussions throughout the day (energetic discussions always occur when you put a group of engineers in the same room!)
Let's learn more about the different features we will be offering during these free events.
Minicourses in Various Subjects
There will be four hands-on minicourses in CFD, electromagnetics, structural mechanics, and heat transfer modeling. Simulation experts from the COMSOL team will guide you through various exercises and make sure that everyone is following along with the workflow. Feel free to bring your laptop and download a trial version of COMSOL Multiphysics for use during the event and when you are back home.
These sessions are interactive and the attendees are encouraged to ask questions. By attending these hands-on minicourses, you will build a great platform for your simulation work and your confidence in using COMSOL Multiphysics will increase — we can assure you that!
Application Builder Introduction
You have most likely already learned about our new feature within COMSOL Multiphysics, the Application Builder, in which you can convert your physics models into apps and manage and deploy them to your colleagues, clients, and contractors with another newly released product, COMSOL Server™. These tools are a neat addition to our product suite and will help engineers and researchers who might not have a prominent physics background or experience working with our software to run their own simulations.
During each COMSOL Day, we will have an introduction to using the Application Builder and COMSOL Server™. After this interactive course, you will be able to build a few simulation apps on your own with the Application Builder's intuitive and very user-friendly interface. Whether you already have experience using COMSOL Multiphysics or have yet to try it, you will be able to appreciate the many different uses and functionality behind simulation apps and the Application Builder.
Networking Opportunities
The opportunity to meet and talk with your fellow engineers is another benefit of attending a COMSOL Day near you. By talking to other simulation engineers, even if you are not yet a COMSOL Multiphysics user or aren't working on similar topics, you will find inspiration and learn about the unlimited number of opportunities you have by working with multiphysics modeling and simulation. If you are already a user, I am sure you will be tempted to share your experience working with the COMSOL software.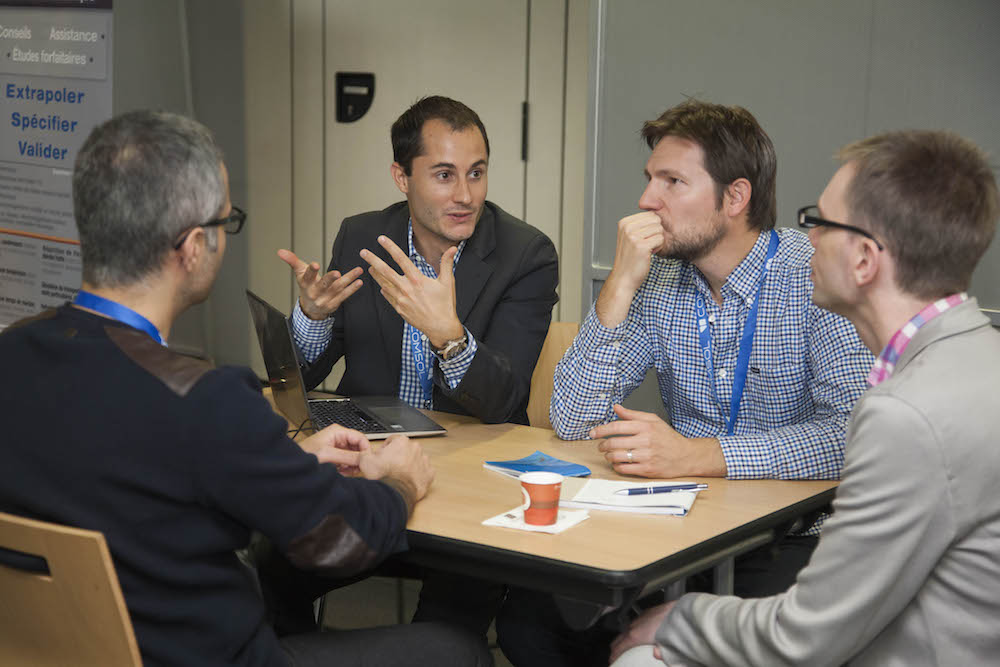 A group discussion during one of many chances to network.
Discussion and networking often begins before we get started in the morning, during sessions, over a cup of coffee, or even when we are eating lunch. As part of each COMSOL Day, we will offer breakfast during morning registration so that you will get a chance to meet fellow engineers and the COMSOL team, mingle, and eat. We'll also have a healthy lunch, coffee, snacks, and beverages throughout the day.
Find a COMSOL Day Event near You
Here are the dates and locations for COMSOL Days 2016:
March 18, 2016 in Grenoble, France
March 25, 2016 in Paris, France
April 7, 2016 in Bethesda, MD
April 28, 2016 in Detroit, MI
May 17, 2016 in Montreal, QC
June 22, 2016 in Columbus, OH
And more to come…
Save Your Spot — Register for COMSOL Days Today
COMSOL Days are similar to the COMSOL Conference we offer each year in the fall, but instead of having a three-day event, we have condensed the experience down to one day for your convenience. And because we are holding these events in multiple locations, you won't need to spend as much time and money on travel.
The content presented during COMSOL Days may be familiar if you have attended one of our regularly held local workshops, but these events have much more "meat on the bone". As I mentioned, the agenda will include basic introductions to our software, exciting user presentations, minicourses, tutorials, and social events. You will also get a chance to mingle with other engineers and COMSOL staff.
Don't miss out on the COMSOL Day in your area — register today!